October 10, 2014 - 4:30am
UC Merced Recreation & Athletics will be hosting their annual Midnight Madness event this Thursday, October 9, 2014.  Doors for this event will open at 9:30pm with the event starting at 10:00pm.
This year's lineup will include performances by your UC Merced Cheer team, Bobcat Dance, Bobcat Band, and the 2014 Dance Off winner, INTRO. The 2014-15 basketball teams will be introduced and will have a 20-minute inner squad scrimmage so you can see what's to come for the season ahead.  There will also be a 3-point and skills competition.  
The first 100 fans in the doors will receive a free t-shirt.  Throughout the night fans will have the chance to win t-shirts, pizza and more.  
Just as in previous years, capacity is expected to be reached early.  There will be a no re-entry policy for this event, so if you leave, your spot will be given to the next individual in line.
This event is free for all current UC Merced students, faculty and staff with a Cat Card.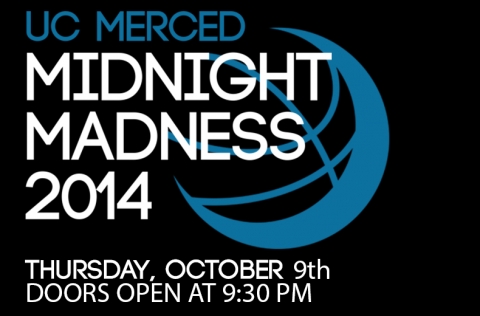 Contact Information
Interim Assistant Director