Fitness Information
You are here
Home
› Fitness Information
Group Fitness Program Offers Something for Everyone!
The Group Fitness program offers classes for all fitness levels and a variety of classes each week. The current schedule offers a variety of options. If you want to see a particular class, let us know.
Effective Tuesday, January 28th, 2014, UC Merced Recreation and Athletics will require the purchase of a Fitness Pass to participate in all group fitness classes.  Listed below is an informational flyer and a list of questions and answers about this pass.
Q: Why is the Recreation and Athletics Department now charging for group fitness classes when they were free?
A: In order to provide additional classes to our schedule (currently 33/week), and to accomodate new specialized fitness classes such as Martial Arts, advanced Yoga and dance classes, additional instructors and equipment will need to be provided.  In addition, current equipment used in the group fitness classes such as Yoga blankets and props, and group cycling bikes will be replaced.
Q: How much will it cost to participate in group fitness classes?
A: The Fitness Pass will be $25.00 per semester and will provide access to all of our group fitness classes on the schedule.  Currently there are 33 classes per week.
Q: Does everyone have to pay this fee?  Is it a mandatory fee?
A: NO!  Only those individuals who want to participate in the group fitness classes will need to purchase a Fitness Pass.  If you only come into the gym to work out in the weight room or use the basketball courts, there are no additional fees.
Q: How does this compare with other campuses in the UC system?
A: All campuses except Riverside and Berkeley charge for their fitness classes.  The fees in the UC System range from $30.00-$50.00 per quarter.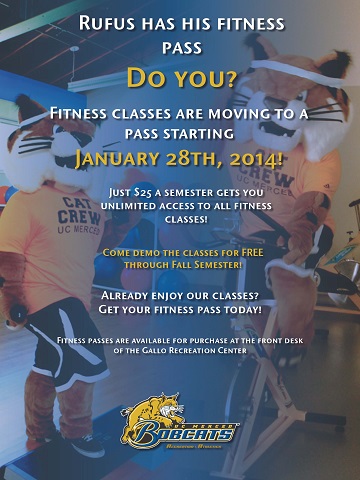 For more information about classes, contact the Recreation & Athletics Department at 228-7732.